Meet Our People: Jodie Haines
Surveyor
About Jodie...
After completing a Geography degree in Bournemouth, Jodie worked as a land surveyor at a small company before moving to Plowman Craven in 2018. She joined as a Junior Surveyor and and is now a Surveyor in the Property Development team.
Share this page
So, what exactly do you do then?

I'm a Junior Surveyor working in the Property Development team which means the majority of my job is scanning the inside and outside of buildings, traversing and taking photos. I also process the data that is captured back in the office so it can be used for floor plans, elevations or Revit models.

What does a typical day look like?

A typical day on site means an early start to ensure the correct equipment is loaded onto the van, and will generally involve scanning with either a Leica P40 or a Faro scanner and taking photographs on an iSTAR. Every day is quite different...and you never know where you're going to end up next week.

What do you like most about your job?

I love the variety of site and office work, and I get to work with different people on a variety of projects. No day or week is ever the same.


Do you have a favourite project?

My favourite project to date would be my involvement at Theatre Royal Haymarket in London. It was really interesting to see how a theatre works back stage. I also really enjoyed working on a job down in Plymouth, as sometimes it's nice to be outside of London.


Why did you choose this field of work?

I did a small amount of surveying at university and found it interesting. I have always hated the idea of working in an office all day every day and being a surveyor means I get a variety of site and office work.

What are the most important attributes for your role?

I guess the most important attributes are time management, people skills, general good organisation....and a lot of patience.

What's the best thing about working for Plowman Craven?

It has to be the people. Everyone is so friendly and there is a lot of diversity here. It's great working with people from all around the world and there is always something going on.

What advice would you give to somebody wanting to do the same job?

Be prepared to be physically tired at the end of a day on site. It's exhausting, but fun. Also, ask lots of questions....no question is ever a stupid question.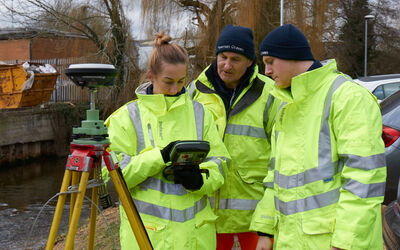 What are you like to work with?

I'm definitely motivated and I'm a team player. I'm forever interested in learning new things and will always give it my all.

What are your passions outside work?

I go to the gym frequently, I love walking, shopping, reading....and I love cats.

Favourite quote or saying?

I've learnt a lot in the short time I've been here and have been involved in a variety of interesting projects. I'm continually learning new things and will always give it my all.

Jodie Haines, Surveyor - Plowman Craven
Notes. Contents of the article were correct at the time of publication.