Plowman Craven launches next-generation Vogel Freedom UAV survey system for rail
The UK's first to supply survey-grade data with zero track access.
Plowman Craven has launched Vogel Freedom, an Unmanned Aerial Vehicle (UAV) based survey system that brings a host of game-changing benefits for rail infrastructure surveying, including efficiency, safety and sustainability whilst maintaining Vogel's class-leading Band 1 survey accuracy.

An industry milestone, the launch marks the first survey-grade solution that can survey tracks without physical access. Based on Plowman Craven's unique IP, this accelerates the process of capturing data and converting it into client deliverables such as topographical surveys and, with 100% removal of 'boots on ballast', offers superior flexibility for when surveying can be undertaken. Compared with traditional methods, Vogel Freedom is:
20% faster, dramatically cutting the typical labour and time intensive track-based tasks such as the installation of ground control points. This means that mobilisation times are now faster than ever, down from weeks to days, and the programme's speed of delivery enhances the client journey, delivering valuable data quicker;
30% cheaper, reducing the need for extensive hours of work for safety critical staff, allowing work to take place during daylight hours (as opposed to midweek nights and weekend possessions) and reducing the overall time spent on site. This results in major savings across project lifecycles;
85% lower carbon, due to a vastly lower number of staff needed on site. In turn, less site time means fewer shifts required across projects and reduced travel (and associated emissions) to and from sites. This is aligned with the decarbonisation targets for the UK's rail networks and wider net zero ambitions in the UK.
Vogel Freedom enables comprehensive surveying of even the busiest and most inaccessible areas from a working height of 35 metres, with no need for manned aircraft or on-track survey teams. Rapid aerial data capture harnesses the advancement of the latest drone, survey grade sensor and geospatial technology to maintain the high quality of data required for any project size. The system uses a state-of-the-art UAV platform and 100-megapixel camera to capture overlapping aerial images of an entire site, along with post-processed kinematic GNSS (Global Navigation Satellite System) observations and precise inertial measurement information. The platform can be operated off-track during traffic hours, removing the need for possessions and line blocks and drastically reducing the exposure of workers to risk. Staff who would usually be on-site have now been moved from a high-risk and time-critical environment to desktop-based activities, thereby retaining their expertise.

This innovative new product is the next generation of the company's Vogel R3D system, building on its capabilities with additional compelling features. The updated platform can now accurately determine its location without as many ground control points, so that ground control can be off-track or even outside Network Rail's boundaries. Since 2019, Plowman Craven has been one of only four approved suppliers on a framework agreement with Network Rail for the provision of UAV services. Network Rail manages over 32,000 km of track, 30,000 bridges, tunnels and viaducts and many thousands of stations, signals and level crossings. By providing access to more accurate and up-to-date data, Vogel Freedom boosts the management of assets and helps to de-risk the network, as well as supporting Network Rail's goals to lower the number of "boots on ballast". The system is fully approved according to Network Rail Band 1 and 3 standards and feeds into the Department for Transport's railway plan in England and Wales for the period to March 2029, known as Control Period 7 (CP7), which highlights the need for reform and the critical role of rail infrastructure in meeting passengers' expectations and driving economic growth.
Pro-innovation Regulation of Technologies Review
A government report released this month – 'Pro-innovation Regulation of Technologies Review: Digital Technologies' – features recommendations on improving regulation across a number of key technologies that can deliver economic benefits, which were approved in the recent Spring budget. Within that, it is estimated that the drone sector alone can contribute £45 billion to the economy (equivalent to 1.6% of the GDP) and save UK businesses approximately £22 billion annually by 2030.
"Having worked in surveying and rail for over 25 years, I have never been able to conduct a survey completely off-track until now. We developed Vogel Freedom in response to ever-increasing industry challenges and needs. It removes previous limitations to surveying and can add substantial value, particularly in the current economic climate, where cost-effective solutions have never been more important, all while improving workers' safety and ensuring a safe and efficient rail service for customers. Since becoming the UK's first adopter of survey-grade UAV, Plowman Craven has continued to invest in the evolution of cutting-edge technologies and, with Vogel Freedom, we enter the next generation, providing the same high-quality data faster, cheaper, more sustainably and with no track access. As ever, we consult with our clients to ensure deployment of the right solution at the right time and, as the need for surveys increases, we can also scale up our ability to provide data to clients for CP7."
Steve Jones, Head of New Business, Plowman Craven.
"We utilised Plowman Craven's Vogel Freedom to undertake UAV surveys on a project, called Victoria Phase 3, initially for survey and sighting location areas and access points. We found that the data could be also used in conjunction with software for Scheme Plans. The data proved invaluable for the Location Areas sighting forms and saved 'boots on ballast' time as some of the work was able to be completed via desktop."
Tony Roffey, Senior Project Manager, Siemens Mobility Limited.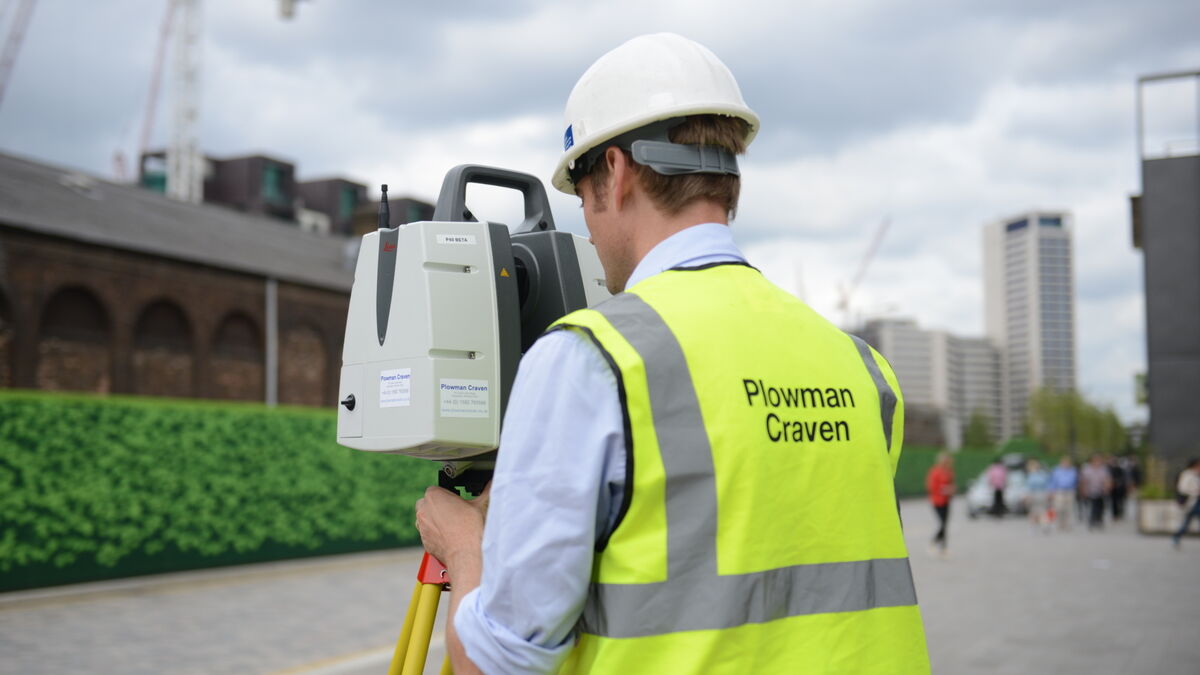 Let's discuss your requirements
Let's discuss your requirements and see how our expertise will deliver trusted results throughout the project lifecycle.
Plowman Craven has more than 50 years' experience, we provide integrated measurement and consultancy services.