Industrial & Logistics
---
Logistics 'sheds' have become the preferred sector for fund investment and demand for quality facilities in the right location has never been higher with both rent and yields on the increase. As point of sale becomes ever more multi-channel, retailers potentially require less shops and stores and instead are looking to increase the number of warehouse and fulfilment centres.
As the need for new high-tech sheds grows, we've seen an increase in the need to refurbish or re-purpose existing units, plus new units that need to be future-proof in order to accommodate any change of use and an increase in automation.
From UAV roof condition surveys on existing buildings to setting out and floor flatness verification projects on new developments, we are technical experts at the forefront of advanced surveying techniques.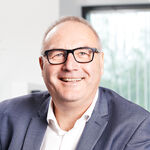 With the rise of robotic technology in the logistics industry, a much higher level of performance is required from warehouse floors and infrastructure. With more than 50 years' survey experience, we've successfully laser-scanned and mapped a variety of distribution centres in the UK and across Europe.
How Can We Help?
Let's discuss your requirements and see how our expertise can help on your next Industrial & Logistics project.
We collaborate with all stakeholders at all stages of the project lifecycle

Capability to deliver on all Industrial & Logistics projects

Technology-led solutions to minimise disruption

Understanding & appreciation of unique challenges

Full range of measurement & consultancy services

Significant experience on high-profile, large-scale projects in the UK and across Europe

Established and trusted reputation as an industry leader
Central Park, Park Royal
St Modwen Park, Burton
Segro Park, Purfleet