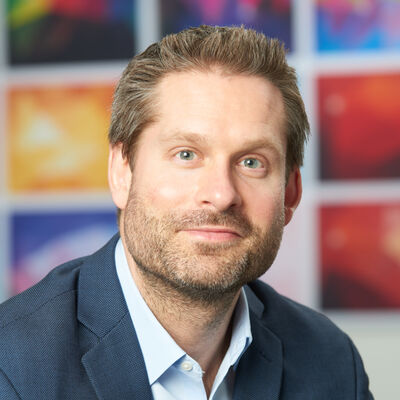 Integrating Environmental Data into BIM
by Tony Selwyn, Head of Environmental Planning - Plowman Craven
As the use of BIM rapidly increases in the property development and infrastructure markets, there is a great opportunity to utilise this intelligent platform to host a wide range of critical environmental data - from tree constraints and ecology surveys to asbestos and flood risk. In fact, we're already doing it...
Share this page
Enviro goes digital...
Environmental assessment can be seen as tick-box task and environmental reports can be difficult to interpret for non-specialists. As a result, this information is often ignored or misinterpreted by project teams, leading to programme delays and increased costs. There is a clear need to update the way this information is delivered to clients and ensure that environmental assessment is a key part of the design process.
BIM (Building Information Modelling) is an intelligent 3D model-based process which gives architecture, engineering, and construction professionals the tools to more efficiently plan, design, construct, and manage buildings and infrastructure. As the use of BIM is rapidly increasing in the property development and infrastructure industries, we believe there is an opportunity to utilise this platform to host environmental data.
The majority of environmental data is geo-spatial. Having this data in the BIM model would make design and project/programme management easier, saving time and minimising risks. BIM could also be used as a tool to demonstrate that environmental risks and responsibilities have been managed appropriately throughout the lifecycle of a project. The quick and easily visualisation of environmental risks within a BIM model would facilitate a more collaborative approach for building design considering the potential environmental impacts.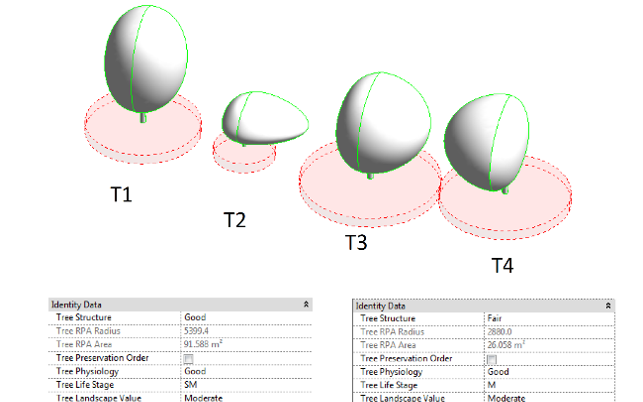 A case in point...
Plowman Craven recently worked on a project that perfectly illustrated the benefits of such an approach. To help to inform the design process of a proposed re-development scheme, the constraints trees posed were transferred from the arboricultural survey report into the BIM model. This process allowed tree constraints data to be easily visualised within the design platform rather than being in the separate pdf report. As the site was within a Conservation Area all trees were afforded a level of protection by the local authority, meaning there was potential for significant issues for the client.
The parameters measured on site by the arborist, such as tree physiological and structural condition, were assigned to the corresponding trees within the model as non-graphical data. The physical parameters such as trunk size/location and canopy spread were modelled from Plowman Craven's point cloud data to ensure these values were as accurate as possible.
The root protection areas (RPA) of the trees were also transferred from the tree constraints plan within the arboricultural report. A tree's RPA is a layout design tool indicating the minimum area around a tree deemed to contain sufficient roots and rooting volume to maintain the tree's viability. Having this value within the BIM platform allows the architects to easily consider where development will encroach within root areas using BIM as the sole design platform.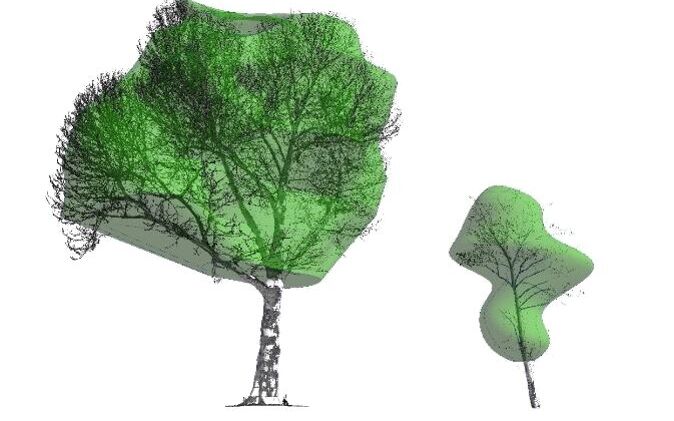 Scratching the surface…
Arboricultural data within BIM is just the beginning of what environmental data could be transferred into the BIM environment, allowing BIM models to become more intelligent and more valuable tools in the design process. If further environmental constraints are added to the model, such as asbestos, ecology, flood risk etc., the fewer external reports which need to be referred to and interpreted, whilst in turn elevating the value of BIM as a collaborative design tool for a project.
A possible future application for a BIM model enhanced with environmental data could include visualisations of nationally significant project using the data which would help with stakeholder engagement and statutory body consultation. A collaboration between GIS and BIM technologies could facilitate delivery of a digital EIA which is more engaging for the reader and easier to interpret.
There are a number of opportunities for enhancing environmental deliverables to clients using the BIM platform and Plowman Craven are in a unique position to drive this innovation, having Scan to BIM and Environmental expertise in house.
What Next?
Interested in transferring environmental parameters into a BIM model? Get in touch...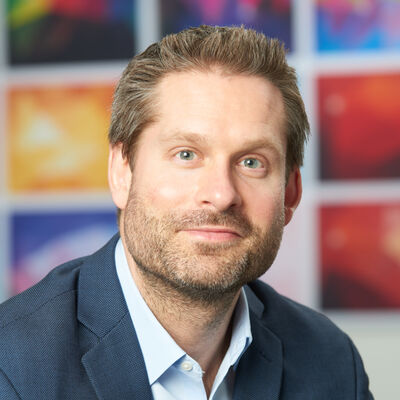 About the Author…
Tony Selwyn, Head of Environmental Planning
You might also be interested in…
Got any questions…?